Second Year for HAMILTON Education Program in Chicago Public Schools
Imagine being sixteen and going to see a major Broadway musical live on stage for the first time ever. Now imagine, your teenage-self performing your own original work on that same stage. That is exactly what happened for a select few fortunate students as part of The Hamilton Education Program. Twenty-five Chicago Public Schools (CPS) attended the matinee performance of the musical HAMILTON at Broadway in Chicago's CIBC Theatre for the second year as a part of The Hamilton Education Program. Through an integrative curriculum, teachers bring new ways to help students find their voice and develop their own connections to American history by pairing it with performing arts. Original work ranging from songs, poetry, scenes and monologues transforms perspectives and gives a new critical lens to how we teach history.
For those who have been living under a rock, HAMILTON is the musical taking the nation by storm with book, music and lyrics by Lin-Manuel Miranda based on Ron Chernow's biography. HAMILTON, winner of 11 Tony Awards including Best Musical, is the story of Alexander Hamilton, an immigrant from the West Indies who became George Washington's right-hand man during the Revolutionary War, and was the nation's first Treasury Secretary. HAMILTON's score blends hip-hop, jazz, blues, rap, R&B and Broadway – the story of America then, told by America now.
This matinee performance is the ninth of 10 all-student matinee performances in 2017, which provides 20,000 Chicago high school students the opportunity to experience the musical sensation. Prior to seeing the performance of HAMILTON, the morning for the Chicago students consists of a student showcase followed by a Q&A with members of the HAMILTON cast. When asked by Montego Glover(plays Angelica Schuyler) if it was anyone's first time seeing a Broadway performance, nearly every hand rose in the theater.
Debuting in 2015, The Hamilton Education Program was created in a joint effort by James G. Basker of the Gilder Lehrman Institute of American History in coordination with HAMILTON creator Lin-Manuel Miranda, producer Jeffrey Seller, The Rockefeller Foundation and the NYC Department of Education. "This program empowers students to reclaim their own narrative and empowers teachers to bridge classroom learning with the stage," Basker said. Students are given the opportunity to perform their original works in front of their peers. Some performances by CPS students included topics such as, recitations of the famous speech "Give Me Liberty or Give Me Death," poems inspired by women of the time like Phyllis Wheatly, and the historical significance of a young nation with foreign taxes.
One performance highlighted Thomas Payne's "Common Sense" performed in a duet by high school juniors Itzeel Rivera and Betsy Muniz of United Township High School. Rivera said the duo prepared for the event by watching videos of Lin-Manuel Miranda explaining his process for creating HAMILTON and learned how to "look for the drama in history." Through their research, the students explained how they felt closer to Thomas Payne by putting his words to music. By digging deeper into this document and supporting sources, a new perspective emerged as to what exactly was going on in America at this point in time. "Coming into this, Betsy and I were like 'well this is just a project' and we're doing this just because we had to and then it turned into something more," Riviera said. "We got so much support from our classmates." When asked if they think the program should continue, both responded yes without any hesitation. "I want other students to experience this too." The students candidly expressed how nervous they both were prior to their performance on such a large stage, but they felt the support from everyone in the room. It was a truly special moment for these classmates and CPS community in the safe space they created that allowed these young talented teens to really shine.
This type of event is the perfect example of how vital educational programs like these are in the academic climate of today. While core curricula helps prepare students for critical thinking and higher education, the lack of funding and budget cuts are tightening around these kids' necks and are draining the creativity out of the school curriculum. Allowing students to get excited about required courses in a new artistic way encourages a happier and healthier educational environment and future. Chicago Public Schools' CEO Forrest Claypool states, "We are thrilled that so many CPS students are learning about one of our nation's Founding Fathers through the HAMILTON Education Program, and that they will have the opportunity to see this acclaimed musical. By combining the study of American history with an appreciation for the arts, we are giving students the well-rounded education they need to become successful thinkers and leaders. Huge thanks to HAMILTON, the local funders and Gilder Lehrman for providing Chicago's youth with this unique opportunity."
The Rockefeller Foundation provided an initial grant of $1.46 million that funded the educational partnership in New York City. After the resounding success of the partnership in New York, The Rockefeller Foundation committed an additional $6 million to the effort to support the national expansion of the program. The Rockefeller Foundation has a long history of supporting the arts and humanities, fueled by a belief that the cultivation of aesthetic sensibilities through literature, music and other fine arts is essential to the well-being of humanity. The HAMILTON Education Program underscores the Foundation's commitment to nurturing the vitality of American cultural institutions and the role of the arts as a catalyst for social change.
Following the student performances, cast members answered questions submitted by students prior to the event. Seeing these professionals sit on the stage their peers were just performing on has to be a surreal moment. The actors told personal stories of how they obtained their roles and how the overall production works on daily basis. There was a stress on how being an actor is not impossible and any dream you may have is not impossible. Miguel Cervantes, who portrays Alexander Hamilton in the Chicago production, highlighted the nature of hard work and failure through his own personal story of landing the lead role. Cervantes illustrates that "sometimes people still say no" regardless of how hard you work and that even if you find rejection over and over to find solace in the belief that "it's not your time this time." This intimate advice to these students was an unforgettably powerful message that sometimes we all need to be reminded of. The lasting message from this event was to encourage students to go create! Learn as much as you can and use that knowledge as power to create what you want to see happen in the world.
For information on HAMILTON, visit www.HamiltonOnBroadway.com, www.facebook.com/HamiltonMusical, www.Instagram.com/HamiltonMusical and www.Twitter.com/HamiltonMusical.
For information on The Gilder Lehrman Institute of American History, visit www.gilderlehrman.org, www.Facebook.com/gilderlehrman, https://www.instagram.com/gilderlehrman and https://twitter.com/Gilder_Lehrman.
For more information on Broadway in Chicago, visit www.BroadwayInChicago.com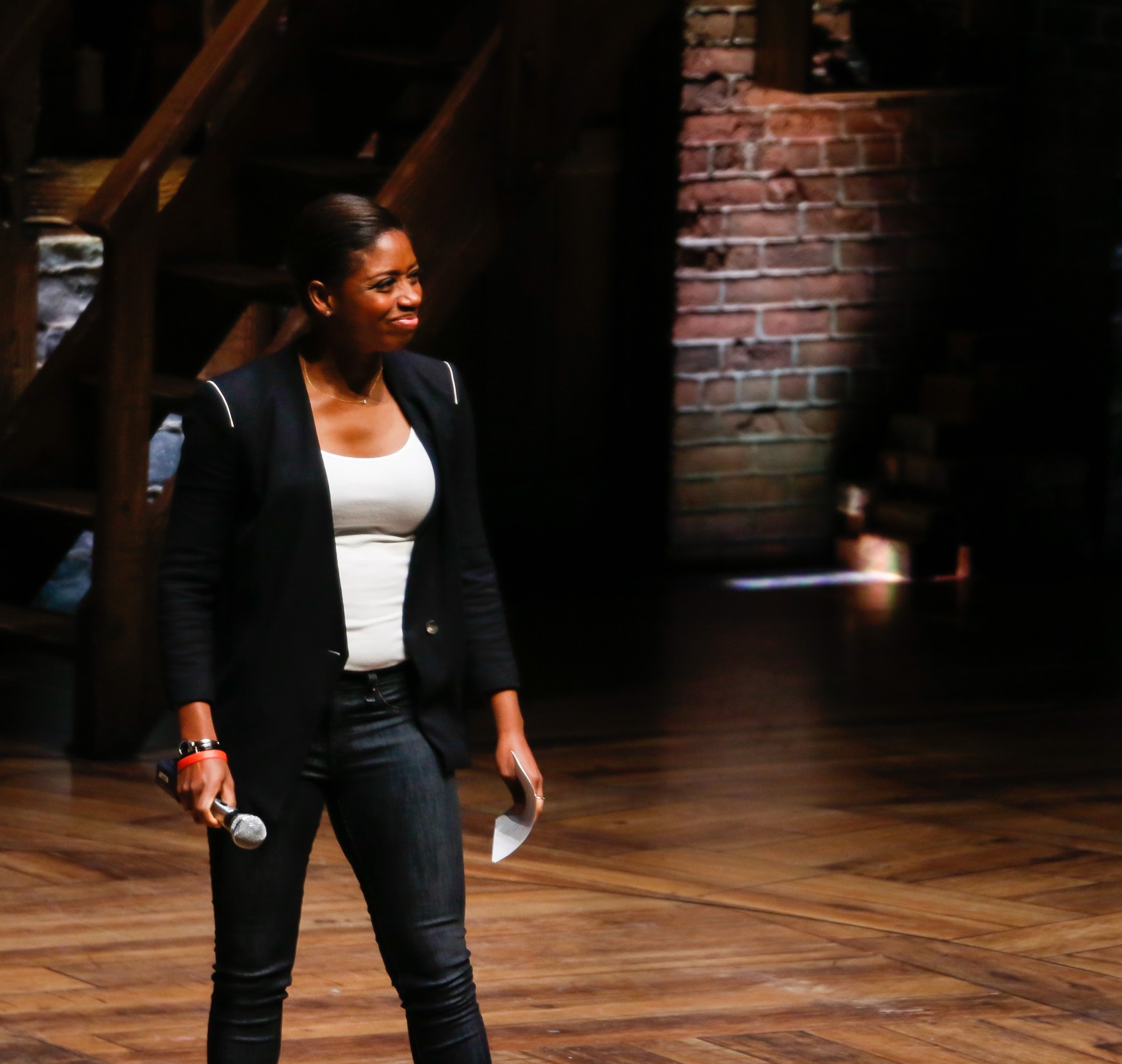 Mary Crylen
Mary Crylen is a photographer and writer based in Chicago. She is an alum of Southern Illinois University of Carbondale with dual degrees in English and Photography. She possesses a sincere passion for the arts and believes zeal shows through work. Follow her on Twitter!